question
Xylem is indicated by the letter
question
The letter A indicates the
question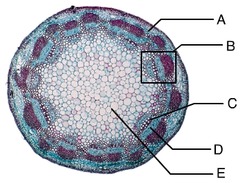 What does the letter A indicate
question
Pith is indicated by the letter
question
Ground tissue is indicated by the letter
question
In leaves, chloroplasts are found in
answer
apical meristem, increases exposure to light, elongation, occurs in plants that live only one year
answer
growth in thickness, lateral meristem, vascular cambium cork cambium, increases vascular flow, provides structural support
question
Both primary and secondary growth
answer
occurs in plants that live many years
question
Plant meristems are
answer
permanently embryonic regions within the plant body
question
The primary growth of a plant adds.....and secondary growth adds....
question
How do cells in a meristem differ from cells in other types of plant tissue?
answer
they continue to divide
question
Which of the following is not a type of primary meristematic cell found in apical meristems? a. protoderm b. ground meristem c vascular cambium d. procambium
answer
c. vascular cambium
question
Which structure determines the direction of root growth by sensing gravity?
question
True or false? Plant growth involves both the production of new cells by mitosis and the expansion of cell volume
answer
a layer of undifferentiated cells that develop into secondary xylem and phloem
question
Why do plants need secondary growth?
answer
to provide structural support for the plant
question
Which part of the plant remains on the plant after several years of growth?
question
true or false? primary growth can occur at both the apical meristem and lateral meristems at the tips of the roots and stems in a plant
question
Root hairs are important to a plant because they
answer
increase the surface area for absorption
answer
an organ that anchors the plant, absorbs minerals, waters, and stores carbohydrates
question
The two major groups of angiosperms are
answer
eudicots and monocots
question
Most eudicots and gymnosperms have a
answer
taproot system; tap root-main vertical root, lateral roots-or branch roots, that arise from taproot
question
Most monocots have a
answer
fibrous root system; which consists of adventitious roots that arise from stems or leaves, lateral roots that arise from the adventitious roots
answer
an organ consisting of an alternating system of nodes and internodes
answer
the point at which leaves are attached
answer
the stem segment between nodes
answer
structure has potential to form a lateral shoot, or branch
answer
terminal bud is located near the shoot tip and causes elongated of a young shoot
answer
helps to maintain dormancy in most axillary buds
answer
lateral shoot just below surface, shoot out vertical shoot along root
answer
right above stems, long internodes in between (asexual reproduction)
answer
considered a stem (an onion-layers are storage leaves)
answer
enlarged rhizomes or stolons are used for storage of food (carbs)
question
Primary photosynthetic organ of most vascular plants
answer
consists of flattened blade, and a stalk called the petiole, which joins the leaf to a node of the stem
question
Monocots and eudicots differ in the arrangement of beins
answer
the vascular tissue of leaves, most monocots have parallel veins, most eudicots have branching veins
question
Each tissue system (dermal, vascular and ground) are
answer
continuous throughout the plant
answer
"fleshy" part of a plant
answer
dermal tissue system consists of epidermis, waxy coating called the cuticle helps prevent waterless from the epidermis
answer
protective tissues called periderm replace epidermis in outer regions
answer
outgrowths of the shoot epidermis and can help with insect defense
question
Vascular tissue system
answer
long distance transport of materials between root and shoot; xylem and phloem
answer
water and dissolved minerals
question
The vascular tissue of a stem or root
answer
is collectively called called the stele; in angiosperms the stele of the root is a solid central vascular cylinder; the stele of stems and leaves is divided into vascular bundles, strands of xylem and phloem
question
Ground tissue system
answer
tissues that are neither dermal nor vascular; includes cells specialized for storage, photosynthesis, and support; pith and cortex
answer
ground tissue internal to vascular tissue
answer
ground tissue external to vascular tissue
question
The major types of plant cells are
answer
parenchyma, collencyma, sclerenchyma, water-conducting cells of the xylem, and sugar-conducting cells of the phloem
question
What are the two types of water-conducting cells
answer
tracheids and vessel elements
question
Tracheids are found
answer
in the xylem of all vascular plants; dead at maturity
question
Vessel elements align
answer
end to end to form long micro pipes called vessels; dead at maturity
question
Sieve-tube elements are
answer
alive at functional maturity, lack organelles
question
Sieve plates are the
answer
porous end walls that allow fluid to flow between cells along the sieve tube
answer
whose nucleus and ribosomes serve both itself and the sieve-tube element it supports
question
An example of a living plant cell that lacks a nucleus would be
answer
a sieve tube element
question
What are alive at maturity?
answer
parenchyma, collenchyma, sieve-tube elements and companion cells
question
Indeterminate growth
answer
lifelong growth; meristems and apical meristems
answer
perpetually embryonic tissue and allow for indeterminate growth
question
Apical meristems are
answer
located at the tips of roots and shoots and at the axillary buds of shoots
question
Apical meristems elongate
answer
shoots and roots, a process called primary growth
question
Determinate growth
answer
organs stop growing after they reach a certain size
question
Lateral meristems add
answer
thickness to woody plants, a process called secondary growth
question
The vascular cambium adds
answer
layers of vascular tissue called secondary xylem (wood) and secondary phloem
answer
replaces the epidermis with periderm which is thicker and tougher
question
New shoots on an actively growing stem come from
question
The root tip is covered by a root cap
answer
which protects the apical meristem as the root pushes through the soil
question
Growth occurs just behind the root tip, in three zones of cells
answer
zone of cell division, zone of cell elongation, and zone of differentiation
question
Secondary growth occurs in
answer
stems and roots of woody plants but rarely in leaves
question
The secondary plant body consists of the
answer
tissues produced by the vascular cambium and cork cambium
question
Secondary growth is characteristic of
answer
gymnosperms and many eudicots, but not monocots
question
Secondary xylem accumulates as
answer
wood and consist of tracheids, vessel elements and fibers
question
Early wood, formed in the spring
answer
has thin cell walls to maximize water delivery
question
Late wood, formed in the late summer
answer
has thick-walled cells and contributes more to stem support
question
In temperate regions
answer
the vascular cambium of perennials is inactive through the winter
question
As a tree or woody shrub ages, the older layers of secondary xylem
answer
the heartwood, no longer transport water and minerals
question
The outer layers, known as sapwood
answer
still transport materials through the xylem
question
Cord cambium gives rise to two tissues
answer
phelloderm and cork cells
answer
thin layer of parenchyma cells that forms to the interior of the cork cambium
question
Cork cell accumulate to the
answer
exterior of the cork cambium
question
Cork cells deposit
answer
waxy suberin in their walls, then die
question
Periderm consists of
answer
the cork cambium, phelloderm, and cork cells it produces
answer
periderm allow for gas exchange between living stem or root cells and the outside air
answer
all the tissues external to the vascular cambium, including secondary phloem and periderm
question
The increase in girth of woody plants is primarily due to the increase in the production of
question
You carve your initials 1.5m above the ground in a 10 m tall tree sapling. If you return 20 years later and the tree is 25 m tall, your initials will be ___ above the ground
question
What constitutes as bark?
answer
all cells external to the vascular cambium