Types of Political Boundaries – ESRI Story Map
question
1. Identify a relic boundary other than the Berlin Wall.
answer
An example of a relic boundary other than the Berlin Wall is the Great Wall of China. It is an old and nonfunctional boundary, but it still exists today.
question
2. Identify another state that has a mountain range as a boundary.
answer
France is a country that has a mountain ranges as a boundaries. The border between France and Spain is made up of the Pyrenees Mountains, and the border between France and Italy is separated by the Alps.
question
3. Explain one advantage of using a river as a boundary.
answer
Rivers have been chosen as boundaries for many reasons. Firstly, they are solid and indisputable boundaries, that clearly and visibly separate the adjacent states. In addition, they are not easy to cross, and do not need large structures and soldiers to guard them.
question
4. Explain one disadvantage of using a river as a boundary.
answer
Rivers, although solid and indisputable, can change over time. Due to the may factors of the environment that can change depending upon the flow, size, and surrounding land. As these natural features change, one country loses land while another gains land leading to tension between them in regard to the boundary.
question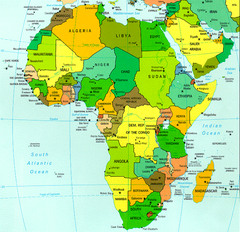 5. Identify the two states that claimed the most territory in Africa.
answer
The United Kingdom and France were the two countries that claimed and occupied the largest amounts of Land on the African Continent.
question
6. Explain the connection between European colonialism in Africa and genocide in places such as Rwanda.
answer
The European nations that conquered Africa divided the land into superimposed boundaries. These boundaries went against the people and cultures occupying the region, leading to division among different cultures that occupied the same state. The increasing tensions led to genocides like the Rwandan Genocide, which involved two distinct cultural groups.
question
7. Define Balkanization.
answer
Balkanization refers to when a large territory or state, such as Yugoslavia, is divided into several smaller territories. Due to political unrest, or other reasons.
question
8. Explain why this would be voluntary migration.
answer
This would be voluntary migration, because the people of India who were Muslim were not forced to move, but instead did so at their own free will. The people who migrated from one region to the other did so on their own choice to be with their culture, and were not forced to move.
question
9. Compare geometric boundaries and antecedent boundaries.
answer
Geometric boundaries are lines drawn on a map without much interest in whatever natural or cultural features are present. Antecedent boundaries are boundaries created before an area is known or populated, often drawn with no recognition of the population living there.