History Quiz: The Renaissance Begins
answer
A great flowering of culture based on Classical Greek and roman ideas and art that began in Italy in the late Middle Ages.
answer
Art influenced by the styles and techniques of Ancient Greece and Rome
answer
Form of money used in a country
answer
An independent state consisting of a city and its surrounding territory
answer
A form of government in which citizens elect representatives to rule for them
answer
The doge, or duke, controlled the day-to-day activities of the city
answer
Relating to earthly life rather than to religious or spiritual matters
answer
A family who ruled Florence
answer
A philosophy that tries to balance religious faith with an emphasis on individual dignity and an interest in nature and human society
answer
Collectively areas of study that focused on human life and culture such as history, literature, and ethics
answer
The belief of the importance of an individual's achievements and dignity
answer
A strong difference between two or more things
answer
An Italian city-state leading as a culture center during the renaissance
answer
An Italian cathedral
question
Where did the Black Death originate?How did it spread to Europe?
answer
It originated from Central Asia, probably China. It spread from infected fleas that lived on rats which went through the silk roads.
question
What were the effects of the Black Death?
answer
Peasants bought more rights and fair pay because there were less serfs because of the plaque. They got to go into town because of their money.
question
What contributed to this new way of thinking in Europe?
answer
Humanism- The belief that man has beauty, worth, and dignity The decline of the power of the Catholic Church led to the growth of Humanism. The Black death led to the Catholic Church in declining. Another reason why the church decline was because the economy rose and they are focusing more on city states and trade and commerce. All this took place in the city states.
question
What three geographic factors contributed to the renaissance?
answer
Italy was in the middle of the Mediterranean Sea as a peninsula - It was close to the Silk Road - The crusaders brought back goods and trade to Italy - Marco Polo brought back a book about China
question
Why is Florence considered "the cradle" of the Renaissance?
answer
Florence is considered "the cradle" because that's were the Renaissance began.
question
What is another word for Renaissance? Why was this term used?
answer
Means Rebirth; there was a 'rebirth' of arts and sciences during this time. Emphasis on this life rather than the afterlife.
question
How long did the Renaissance last?
answer
Lasted from 1350 until 1600
question
What was the Renaissance the rebirth of?
answer
It was a rebirth of interests in classical (Ancient Greek & Roman) Art, literature, writing, and learning
question
Why did the Renaissance begin in Italy?
answer
Development of Italian City-States (e.g. Florence, Venice, Genoa, Milan, and Rome)
question
Where was Italy near?
answer
Close to Byzantine empire (close to old trade routes established by Constantinople) ---- reopening of the silk rode
question
Who was Marco Polo? And what did he bring back?
answer
Marco Polo (an Italian) brought back stories of Chinese goods
question
Why did the Renaissance begin in Italy?
answer
The Renaissance began in the Italian city-states because they had the wealth from the commerce and trade of the Middle Ages. For some time, Venice had outfitted the crusaders and was the conduit for the silk and spice trade from India and China.
question
Italian city states
answer
- The Renaissance Began in Florence, Italy - Started by a family called the Medici - Florence was ruled by the powerful Medici family
question
Who was the Medici family?
answer
- The Medici's allowed the ideas of humanism to spread through Florence - Lorenzo "the Magnificant": Medici (the most famous of the medici's) used the money to patron artists, architects, and writers. - Was a "Renaissance Man" - excelled at many things (poet, banker, artist)
question
Italian City- States: Rome
answer
- The renaissance moved to Rome in the early 1500s - Pope controlled Rome and the Papal States - The popes were patrons to many different artists to decorate the palaces and churches
question
Italian City-States: Venice
answer
- Venice had a monopoly over the trade with Asia- made Venice $$$$$$ - Venice was the wealthiest Italian-City state in the renaissance - Made fortune by shipbuilding and trade - Venice had a republican form of government, headed by a Dodge - The doge, or duke, controlled the day-to-day activities of the city
answer
Having official permission or approval: an authorized dealer authorized access to the computer.
answer
A great Italian author of the Renaissance who wrote "The Divine Comedy".
answer
The name given by Europeans to the Americans, which we unknown to most of Europeans before the voyages of Christopher Columbus.
question
William Shakespeare
answer
An English Renaissance poet and play write whose plays show a deep understanding of human behavior. 1) Romeo and Juliet; 2) Macbeth; 3) Julius Caesar; 4) Hamlet; 5) Tempest; 6) Midsummer Night's Dream
answer
The Spanish Renaissance author of the masterpiece Don Quixote.
answer
The hero of a romance by Cervantes, a satirical account of chivalric beliefs and conduct. The character Don Quixote is typified by a romantic vision and naive, unworldly idealism.
question
Leonardo Da Vinci
answer
Italian painter, scientist, and engineer. His paintings are notable for their use of the technique of sfumato and include the Virgin of the Rocks, The Last Supper, and the Mona Lisa. He devoted himself to a wide range of other subjects from anatomy and biology to mechanics and hydraulics: his 19 notebooks include studies of the human circulatory system and plans for a type of aircraft and submarine.
question
What is humanism and how was it the backbone of the Renaissance?
answer
Emphasis on humanity and the present life; studying, learning, enjoying--less of a focus on the next life and more a focus on this life. This concept was the backbone of the Renaissance because it allowed people to focus on enjoying their present lives and to spend their money on beautiful things (art, buildings, music, literature). Artists find support from wealthy merchants who pay them to make these works of art.
question
How did the church's beliefs conflict with Renaissance beliefs?
answer
The church believed that humans should focus on religion and the afterlife. Things that brought pleasure should be limited to please God and humanists wanted to enjoy their lives with beautiful art, music, literature. Humanists want to spend their money of worldly objects and the church felt this was inappropriate behavior.
question
How did the Renaissance spread throughout Europe?
answer
The invention of the printing press by Johannes Gutenberg allowed many more printed materials than before. The printed materials allowed these new humanist ideals to be spread much faster and with less expense than before. People were also able to read material in English rather than Latin which allowed them to learn and interpret ideas for themselves. This is another way the church lost power.
answer
Poet and scholar; encouraged Europeans to look for Latin manuscript; built libraries throughout Europe and wanted people to think and write more.
answer
Italian writer famous for "The Prince". He wrote about the skills a leader should have such as: intelligence, boldness, good to be feared, maintain power, and ruthless.
answer
Wrote "utopia." Described a perfect, ideal world. Ruled by reason and logic, and promoted equal rights, tolerance and education. Paid a great price for his ideals.
question
What is the "Divine Comedy" about?
answer
The Divine Comedy takes Dante on a journey through Heaven, Hell, and Paradise. In Hell, Dante is taken on a tour by Virgil through the many circles of hell where they discuss sins and their punishments. A great accomplishment of Italian literature.
question
What is the Duomo and who designed it?
answer
The Duomo is a grand cathedral designed by Filippo Brunelleschi.
question
Summary of Don Quixote
answer
DQ lived in a small town (La Mancha); While reading a book about a knight he decided to begin pretending he was a knight and told his servant (sancho) they needed to go on a journey. He hallucinates many adventures including fighting an army (a herd of men with sheep), fights monsters (windmills) who have captured the beautiful girl--gets hurt and goes back home--and reads another book and thinks he has to go on another journey.
question
What are the differences between Medieval and Renaissance art?
answer
Medieval art was flat (2D) and focused on religious subjects with very little use of light and shadow. Also, colors are subdued and lots of gold used. Renaissance art was classically influenced and focused on individuals. It contained perspective and much more realistic figures showing emotions (could be clothed or nude). Renaissance art tried to be as realistic as possible with warm, rich colors.
question
What is perspective?
answer
Perspective shows depth and shadows. Three-dimensional artworks (not flat); difference between foreground and background
question
What is fresco?
answer
When paint is combined with wet plaster to be added directly onto walls.
question
Why were oil painting an improvement over older styles?
answer
Oils come in greater color variety, and the oils dry more slowly allowing more layers and combinations to be made.
question
Donatello
question
Leonardo Da Vinci - artworks
answer
The Last Supper and The Mona Lisa
question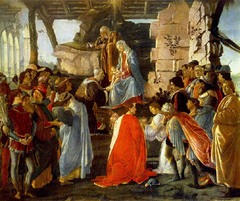 Botticelli
question
Michelangelo - artworks
question
Michelangelo - artworks 2
question
Michelangelo - artworks 3
question
Michelangelo - artworks 4
answer
School of Athens - focuses on Plato and Aristotle who are debating the way government should work
question
Jan van Eyck
answer
Arnolfini Wedding - Northern Renaissance Painting
question
Why were the Medici's beloved by the people of Florence?
answer
They were just and fair rulers. They provided money to the arts to make Florence beautiful.
question
What are patrons of the arts?
answer
Individuals who provide money, shelter, etc. to artists to create works of art.
question
What are the 'Classics'?
answer
Ancient Greek and Roman art, literature, writing, and learning.