question
Homefront
answer
The efforts by many that were home in the U.S. to support the war effort. The home-front was called to support the war effort by supporting rationing, buying war bonds, and planting Victory gardens.
question
Office of War Information
answer
This organization was created to encourage Americans to work for the war effort, photograph the war to use as propaganda to promote patriotism.
question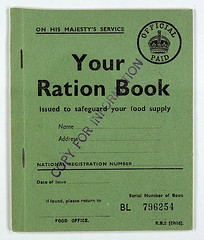 Rationing
answer
This policy regulated the amount of goods that a consumer could obtain during the war. Exercising this policy was to work against anger over shortages.
question
War Bonds
answer
Americans were encouraged to buy these to help finance the war effort. They reduced the currency in circulation and curbed inflation.
question
Victory Gardens
answer
These were also call "War Gardens," grown by Americans to help with the food supply during a period of rations.
question
Volunteerism
answer
During World War II, many on the home front were called upon to volunteer and assist the war effort. This included buying of war bonds, conserving raw materials, and planting Victory gardens.
question
Manhattan Project
answer
This was the name for the development of the atomic bomb. The first successful test took place in New Mexico, 1945.
question
Baby Boom
answer
During this time over 30 million babies were born in the United States during the postwar era of prosperity.
question
Executive Order 9066
answer
This was the order given by President Franklin D. Roosevelt that called for the internment of all Americans of Japanese ancestry.
question
Internment Camps
answer
This is the term for detaining Germans, Italians and Japanese during WW2.
question
Korematsu v US
answer
Fred Korematsu filed this case claiming that his rights as a U.S. citizen were denied by the internment of Japanese Americans. The court ruled that the relocation of these citizens was constitutional.