The Brain - Parts & Functions
question
Limbic system
answer
A group of subcortical structures (as the hypothalamus, the hippocampus, and the amygdala) of the brain that are concerned especially with emotion and motivation.
question
Cerebral cortex
answer
Outer layer of the brain, thinking, organizing, and creative center.
question
Brainstem
answer
Connects the spinal cord to the remainder of the brain and contains many ascending and descending nerve tracts. Consists of the medulla oblongata, pons, and midbrain.
question
Frontal lobe
answer
Largest and longest lobe in each hemisphere. Located in the upper forward half. Association areas are involved with planning, problem-solving, personality, decision making, controlling emotions and speech production
question
Parietal lobe
answer
Located in the upper back half of the brain. Receives and processes sensory information from the body and skin senses as well as other sensory areas in the brain. Association areas are invovled with spatial reasoning and sensing the position of the body in space.
question
Temporal lobe
answer
A region of the cerebral cortex responsible for hearing and language.
question
Occipital lobe
answer
An area at the back of each cerebral hemisphere that is the primary receiving area for visual information.
question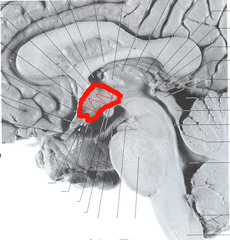 Hypothalamus
answer
A neural structure lying below the thalamus; it directs several maintenance activities (eating, drinking, body temperature), helps govern the endocrine system via the pituitary gland, and is linked to emotion and reward.
question
Thalamus
answer
A forebrain structure that processes sensory information for all senses, except smell, and relays it to the cerebral cortex.
question
Cerebral cortex
answer
The intricate fabric of interconnected neural cells covering the cerebral hemispheres; the body's ultimate control and information-processing center.
question
Corpus callosum
answer
A thick band of axons that connects the two cerebral hemispheres and acts as a communication link between them.
question
Midbrain
answer
A small part of the brain above the pons that integrates sensory information and relays it upward.
question
Pons
answer
A hindbrain structure that connects the medulla to the two sides of the cerebellum; helps coordinate and integrate movements on each side of the body
question
Medulla
answer
An extension of the spinal cord into the skull that coordinates heart rate, circulation, and respiration.
question
Cerebellum
answer
Control of finely coordinated movements. Coordination center, voluntary movement and balance. "Small brain."
question
Spinal cord
answer
Nerves that run up and down the length of the back and transmit most messages between the body and brain
question
Reticular formation
answer
A nerve network in the brainstem that plays an important role in controlling arousal.
question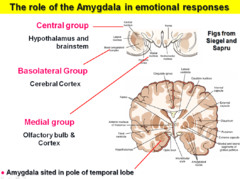 Amygdala
answer
A limbic system structure involved in memory and emotion, particularly fear and aggression.
question
Hippocampus
answer
A curved forebrain structure that is part of the limbic system and is involved in learning and forming new memories
question
Motor cortex (frontal lobe)
answer
An area at the rear of the frontal lobes that controls voluntary movements
question
Broca's area (frontal lobe)
answer
controls language expression-area of the frontal lobe in left hemisphere that directs muscle movements invloved in speech
question
Prefrontal cortex (frontal lobe)
answer
most frontal region of the frontal lobe; involved in higher-order cognitive processes (planning, decision making, emotional control)
question
Somatosensory cortex (parietal lobe)
answer
A brain area at the front of the parietal lobes that registers and processes body sensations
question
Visual cortex (occipital lobe)
answer
Area of the brain responsible for the initial conscious registration of visual information; the designation of electric (nerve) impulses from the retina
question
Auditory complex (temporal lobe)
answer
hearing center located in temporal lobe
question
Wernicke's area (temporal lobe)
answer
controls language reception - a brain area involved in language comprehension and expression; usually in the left temporal lobe