Early American Modern Architecture
question
Which of the following was Frank Lloyd Wright known for?
answer
creating "organic" architecture that was part of the surrounding landscape
question
The __________________ was one of the first great skyscrapers.
question
Prairie houses are________________________.
answer
irregular in plan, two stories high, with one-story wings
question
What characteristics identify early modern architecture?
answer
emphasized organic shapes and materials
question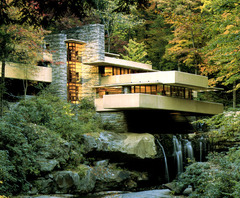 What is the name of the piece above?
question
How did Frank Lloyd Wright believe a home should interact with the landscape?
answer
the house should be in the landscape
question
How does the home above create a strong sense of security?
answer
the roofs and terraces that jut out
question
What stylistic influence can be seen in the building above?
answer
Gothic style cathedrals
question
What was the idea behind the design of the building above?
answer
to reflect America's increasing worship of business during the early twentieth century
question
Who designed the building above?