Art Appreciation Chapter 17 Kahoot
question
Jacques-Louis David
answer
This work of art tells the story of a man who was murdered in his bath. Who is the artist?
question
The Cornaro Chapel
answer
Gianlorenzo Bernini used sculpture/paintings/architecture and lighting in _________
question
St. Teresa in Ectasy
answer
_______ by Bernini is a baroque sculpture found in the Cornaro Chapel
answer
Paintings depicting scenes of everyday life are known as _________ paintings
question
ALL OF THESE: With Christ's "S" curve through which he guides our eye, figures burst outside the painting, movement and energy
answer
In Peter Paul Ruben's "The Raising of the Cross" we see Baroque style
question
lighting
answer
In Baroque paintings, such as this example, dramatic effect is created through the use of
question
3. Preferred landscape painting
answer
The following is true about Rembrandt EXCEPT: 1. Considered one of the greatest of the great 2. Did not manage his money well 3. Preferred landscape painting 4. Created personal portraits within context of larger activity
question
Louis XIV of France
answer
The Palace of Versailles was home to who?
question
community, business life, the family and home (all of these)
answer
Unlike Baroque art from Catholic countries, Dutch baroque art focused upon
question
1. Diego Velazquez
answer
Which of the following was court painter to King Philip IV? Also painted "Las Meninas" (shown): 1. Diego Velazquez 2. Gianlorenzo Bernini 3. Francesco Borromini 4. Artemisia Gentileschi
question
2. is more playful and lighthearted
answer
In comparison to Baroque art, the style of Rococo: 1. is more suitable for public places 2. is more playful and lighthearted 3. tends to employ more intense colors 4. none of these
question
Elisabeth Vigee-Lebrun
answer
One of Queen Marie-Antoinette's (doing this portrait from life) favorite portrait painters was
question
"The Oath of the Horatii"
answer
This tragic Roman tale is meant to arouse feelings of patriotism, self-sacrifice, & civic virtue
question
Rococo; Mirror Room; Amalienburg
answer
Style of architecture; name; location
question
Baroque; Hall of Mirrors; Palace of Versailles
answer
Style of architecture; name; location
question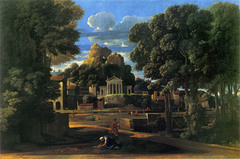 "The Ashes of Phokion"
answer
Steeped in the philosophy and history of the classical past, French artist, Poussin painted
answer
Dutch artists during the Renaissance were masters in areas except
question
Paul Revere
answer
John Singleton Copyl was the first "master" artist born in America. This portrait is of
question
Neo-Classic Revolution
answer
There were three revolutions going on at the end of the 18th century. Which one was NOT
question
the Rococo period
answer
Jean Honore Fragonard's "The Pursuit" is 1 of 4 paintings done for duchess du Barry during
question
dramatic lighting, sense of drama, strong diagonals (all of these)
answer
"Entombment of Christ" by Carravaggio is considered Baroque because of
question
"The Nightwatch"
answer
Rembrandt painted _____ as a set of individual portraits within a larger activity
answer
Judith Leyster was a Dutch female artist known for her _______ subject matter
question
secular
answer
Jacob van Ruisdael painted Dutch landscapes in the 17th century which were ______ themed
answer
Dutch artists didn't focus on...
question
"Night Watch" by Rembrandt