Cheesecake Factory Menu: Pasta
question
Lasagna Verde
answer
Fresh Spinach Pasta Mozzarella Fontina Parmesan Cheese. Covered with Our Housemade Tomato-Mushroom and Marinara Sauces.
answer
Italian Sausage Pepperoni Housemade Meatball Mushrooms Peppers Bacon Onions Garlic in a Rich Tomato Sauce. Served Over Parmesan Cream Pasta.
question
Tomato Basil Pasta
answer
Grilled Chicken Fresh Mozzarella Touch of Garlic Penne Pasta Light and Fresh
question
Fettuccini Alfredo
answer
A Rich Parmesan Cream Sauce. Available with Chicken
question
Pasta Carbonara
answer
Spaghettini Smoked Bacon Green Peas Garlic-Parmesan Cream Sauce Available with Chicken.
question
Four Cheese Pasta
answer
Penne Pasta Mozzarella Ricotta Romano Parmesan Marinara Sauce Fresh Basil Available with Chicken.
question
Spaghetti and Meatballs
answer
Housemade Meatballs Made with Beef, Italian Sausage Parmesan Tomato Sauce and Basil.
question
Evelyn's Favorite Pasta
answer
Penne pasta Broccoli Oven-Dried Tomato Zucchini Roasted Eggplant Peppers Artichoke Kalamata Olives Onion Garlic Pine Nuts
question
Pasta Campagna
answer
Chicken Fresh Basil Parmesan Garlic Mildly Spicy Tomato Sauce Fresh Mozzarella
question
Louisiana Chicken Pasta
answer
Parmesan Crusted Chicken Served Over Pasta with Mushrooms Peppers Onions Spicy New Orleans Sauce.
question
Pasta Da Vinci
answer
Sautéed Chicken, Mushrooms Onions Delicious Madeira Wine Sauce Tossed with Penne Pasta Parmesan.
question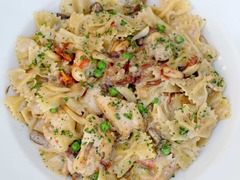 Farfalle with Chicken and Roasted Garlic
answer
Bow-Tie Pasta Chicken Mushrooms Tomato Pancetta Peas Caramelized Onions in a Roasted Garlic-Parmesan Cream Sauce.
question
Spicy Chicken Chipotle Pasta
answer
Penne Pasta Honey Glazed Chicken Asparagus Red and Yellow Peppers Peas Garlic and Onion in a Spicy Chipotle Parmesan Cream Sauce.
question
Bistro Shrimp Pasta
answer
Crispy Battered Shrimp Fresh Mushrooms Tomato Arugula Tossed with Spaghetti Basil-Garlic-Lemon Cream Sauce.
question
Shrimp with Angel Hair
answer
Large Shrimp Sautéed with Tomatoes Lemon Garlic Herbs Fresh Basil on Top of Angel Hair Pasta Touch of Marinara Sauce.
question
Cajun Jambalaya Pasta
answer
Shrimp Chicken Sauteed with Tomato Onions Peppers in a very Spicy Cajun Sauce All on top of Fresh Linguini