question
Which ancient Roman's writings on architecture related the human body to geometric shapes?
question
TRUE/FALSE: The French artist Le Corbusier related the golden figure to human proportions in a tool he called the Modulor.
answer
False; golden section
question
The design principle that is based on repetition is called
question
Which one of these is NOT a Principle of Design? 1. Texture and pattern 2. Emphasis and subordination 3. Rhythm 4. Variety 5. Unity 6. Proportion
answer
Texture and pattern
question
The sculptor ________ is known for re-creating ordinary objects on an heroic scale.
question
Scale is defined as
answer
size in relation to some "normal" or standard size
question
The architect Leon Battista used what principle of design to create the monumental faced of the church of Sant' Andrea
question
The work below exhibits ______________ balance, which is when two sides do not correspond to one another in size, shape, and placement.
question
The apparent heaviness or lightness of forms arranged in a composition by how insistently they draw our eyes.
question
_________________ was one of many artists that became fascinated by the ideas of __________________, a Roman architect of the first century B.C.E. who related the perfected male form to the perfected geometry of the square and circle.*
answer
Leonardo da Vinci; Vitruvius
question
Shimmering Substance
question
Hotel Eden
question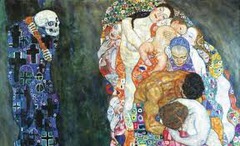 Death and Life